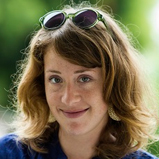 Sarah Birgé
Executive Director, Ground Operations
Years of Involvement: 2011 to present
Education: University of Chicago, B.A.
The School for International Training, M.A.As a former teacher in rural Vermont, Sarah knows a quality education is a tool for fighting economic inequality. After 18 months as Co-Director in India, she remains committed to people and communities there. Sarah brings coalition building and sustainable NGO development skills to Nanubhai, and is currently an Assessment Coordinator at the Vermont State Agency of Education.
Anita Patel
Chairperson of the Board
Years of Involvement: 2009 to present
Education: University of Florida, B.A.
Anita's interest in improving children's education and literacy led her to a grassroots forum where she learned about Nanubhai. Intrigued by it's dedicated volunteers, and astonished at the familiarity of the name (her father and grandfather attended Kadod HS) she grew excited to bring her project management and leadership experience to lead and manage local Nanubhai projects in NY.
Anita's past Nanubhai involvement includes Grassroots Development, Public Relations, Gala Co-Chair, and NYC Director.
Anita Patel began her career at Merrill Lynch and has worked in various financial services roles in the banking industry for over seventeen years.
Raj Shah
Founder
Years of Involvement: 2004 to present
Education: Princeton University, B.A.
The Wharton School, University of Pennsylvania, M.B.A.
Raj has had the privilege of being the first volunteer at Nanubhai and watching the organization grow into a strong network of dedicated volunteers. He is a Senior Director at Palo Alto Networks.
Manish Dayal
Official Spokesperson
Years of Involvement: 2012 to present
Education: George Washington University, B.A.
An actor and first generation Indian-American, Manish is a vocal advocate of quality education for all students in rural India. Recent roles include The Hundred-Foot Journey with Helen Mirren, ABC Family's Switched At Birth and The CW's 90210.
Manoj Shah
Honorary Leadership
Years of Involvement: 2004 to present
Education: Baroda Medical College
Dr. Manoj Shah was born and raised in Kadod, Gujarat. He studied under esteemed Principal Nanubhai Naik at the Kadod High School. Principal Nanubhai inspired Dr. Shah to pursue his studies and eventually emigrate to the U.S.. Today, he is a practicing gynecologist and currently serves as the President of the Medical Association of Georgia.