One Intern's Thoughts on Her First Glimpses of India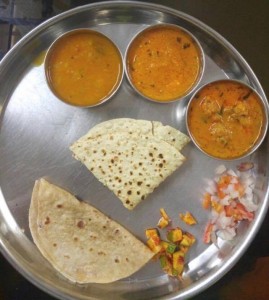 One of Nanubhai's 2016 interns, Emma, writes about her thoughts on her first few days in India. 
My first impression of India and our office in Bardoli is that it is nothing like what I had imagined. In my head, Bardoli was a small town with a few shops and not a high population. In reality, Bardoli is bustling with activity. From dense traffic in the roads to swarms of people everywhere you look, this city is nothing like I'd pictured. These last few days in India I've realized how utterly different it is than anywhere I've ever been. So, I guess it makes sense that the image in my head before I came here was totally off.
While preparing for my trip to India, I was given countless warnings of how dangerous it could be and was frequently told all of the things that could go wrong. My mom even made me purchase pepper spray and a whistle to carry with me for protection (she's a typical overprotective mother). So far, every single person that I've met here has been extremely kind and helpful. While Giannina and I were traveling, we found assistance every step of the way and I always felt safe and well looked after.
One of my favorite memories of my first few days here in Bardoli is of the first time Giannina, Kristine and I went out for dinner on our own. We found a nearby restaurant and were welcomed by a crowd of smiling people, including some young children who seemed especially interested in our presence. No one there spoke English, and we were immediately offered food with no need for us to struggle through choosing from a menu that we would most likely have no ability to understand. Throughout our meal a few people helped instruct us on how we should eat the different elements on our plates. The proper way seemed to be to rip off pieces of the tortilla-like food (called roti) and dip this in the various other dishes. The food was delicious but seemed very spicy to me, although I have always been sensitive to spice. Giannina also enjoyed the food, but she ended up getting a nosebleed from the intense spices! Once we finished our meal, they requested that we take a photo with some of the young girls in the restaurant. Of course we were happy to do this after they had treated us so well. Throughout our time there, we were constantly met with patient smiles and kind curiosity. All of this kindness has made me feel even more excited to be starting this adventure in India.